My Advent Playlist Day 1: Tidings of Comfort and Joy
So last year I blogged through the entire month of December to celebrate Advent season, and all in all it was a pretty successful venture! I felt very much plugged into the spirit of the season, and learned a thing or two about myself along the way. On the other hand, it almost killed me, so this year I embark on the same quest with no small amount of trepidation. I figured I could mitigate some of the stress, though, by messing with the formula a little. So this year I'm using Christmas carols as thematic springboards for my Advent blog posts. Each day I will pick a line from a Christmas carol and reflect on its meaning in the context of my/our experience with Christmas this year.
Tidings of Comfort and Joy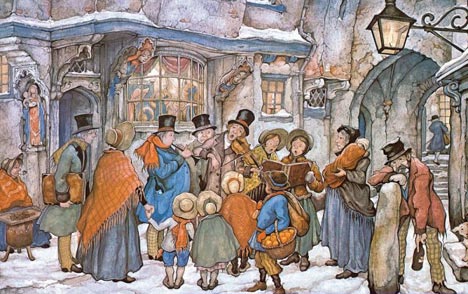 Every December, as year-end approaches, I start to get retrospective about the previous twelve months. And this has been a rough twelve. For me anyway, and for the country too, if I may be so bold as to say.
Yes, on a national scale things are quite frightening at the moment. So much frustration, fear, instability. The prime example of such unrest is the conflict surrounding the killings of black citizens by police officers. One need look no further than Ferguson, Missouri to put faces to these intense feelings.
As a white(ish) adult male I cannot fathom the anxiety and pain, not really, but I do see my country, my home splitting apart as a result of systemic injustice. And I'm tired of suppressing the outrage.
The big question, in light of these issues, is how do we celebrate Christmas, which can seem like such an archaic, or else needlessly consumeristic enterprise in times like this.
I think back to two years ago, when the tragedy at Sandy Hook elementary left Americans feeling, wrestling with the loss of innocence and the profound evil in humankind, all around Christmastime. In fact, it left me asking, where are you Christmas?
What I learned then, as I believe now, is Christmas can actually provide some hope in the midst of such pain. It can alleviate the tension, the mistrust, give us all a precious experience in common just when we desperately need one.
"God Rest Ye Merry Gentlemen," echoes the angels' announcement of the incarnation of God to a few poor shepherds, providing tidings of comfort and joy to those dispossessed and afflicted.
And I pray for these both for us as well. First for those most affected by these tragedies, then for the rest of us.
Comfort and joy. A salve for the pain and an opportunity for life on the other side of it.
Comfort and joy.
These are the promises of the incarnation, the descent of God into human experience. The King of the universe come down to provide peace and relief to His little ones.
Amen.